1,-Dibromo-5,5-DiMethyl Hydantoin (DBDMH)
CAS No.:
77-48-5
Molecular Formula:
C5H6O2N2Br2
Molecular Weight:
285.94
Structure Formula: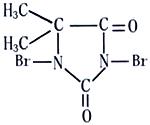 Properties:
DBDMH is light yellow crystal powder, which can be further processed as glanular and tablet. Dibromo dimethyl hydantoin is stable when dry, slightly dissoluble in water and also dissolves in chloroform, ethanol, and other organic solvents.
Dibromo dimethyl hydantoin is easy to decompose in strong acid and strong alkali. The best antisepsis pH value of DBDMH is 5-7 and the draff can be biodegradation in a short time without any pollution.
Specifications:
| Item | Index |
| --- | --- |
| Appearance | Light yellow crystal powder |
| Assay | ≥ 98% |
| Bromo content | ≥ 54.8% |
| Melting point | 185~192°C |
| Drying loss | ≤ 0.5% |
Instant or slow-releasing granular: 8-30mesh.
Applications:
DBDMH is streamlined oxidant type disinfecting agent, with high stabilization, light odor, slow-release, long efficient, can be widely used:
Sterilization for swimming pool and tap water
Sterilization for aquaculture
Sterilization for industrial water
Sterilization of environment for hotel, hospital and other public places.
DBDMH is also a kind of excellent industrial bromating agent, used in making organic chemicals.
Packing and Storage:
Packed in two layers: non-poisonous plastic sealed bag for inside, and paper-plastic multiple bag or cardboard barrel for outside. 25kg net each or by customer's requirement.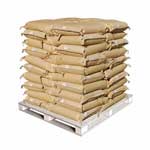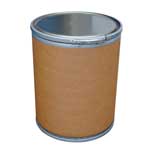 Keep in cool and dry; avoid putting together. Validity: one year.
Synonyms:
Dibromantin, 1 3-Dibromo-5 5-Dimethylhydantoin.