Properties: Colorless transparent liquid gel
Effect: Effective in killing intestinal pyogenic coccus, pathogenic bacteria, pathogenic yeast, and common bacteria of hospital infection.
Main ingredients: Ethanol (75% ± 5%, V/V) is the main active ingredient. Special skincare ingredients are also added for moisturizing.
How to use: Directly use the original gel for instant hand disinfection. Moisten dry hands with an appropriate amount and rub for 30-60secs until the entire hand surface is covered.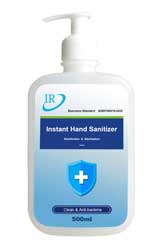 Precautions:
1.External use for skin only. Avoid eye, oral, or other mucosa contacts. Immediately wash if any improper contact.
2.Caution if alcohol allergy.
3.Inflammable. Keep away from fire.
4.Keep out of the reach of children;
Storage: Keep sealed in dry and cool conditions. Avoid light.
Packing: 1,000L IBC, 200L Drum, 5L Bottle, 4L Bottle, 500ml Bottle, or as per customer requirement.
Shelf life: 12 months
Production registration license No.: LU Disinfection Product Number (2020) No. 0174