Benzisothiazolinone, BIT Biocide
CAS No.: 2634-33-5
Molecular Formula: C7H5NOS
Molecular Weight:151.18
Structural Formula: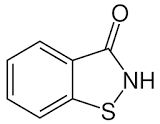 Properties
Benzisothiazolinone (BIT) is an important bactericide and antiseptic. The BIT biocide can restrain microbe (fungi, germ, algae, etc.) growing in an organic medium. It also can resolve any problem caused by microbe growing in an organic product. Such as mildewing, degeneration, go bad.
Benzisothiazolinone (BIT) is stable over a broad pH range of 4–12 and a broad temperature range. BIT biocide is miscible in water and most of low alcohols and glycols. BIT has low poison, no irritation to eyes and skin.
Specifications
| Item | Index |
| --- | --- |
| Appearance | Slight yellow powder |
| Purity (HPLC) | ≥ 98% |
| Water | ≤ 15% |
| Melting point | 155-158°C |
| pH (1% solution) | 8.0-10 |
Applications
Benzisothiazolinone, miscible in water and of low toxicity. BIT biocide can be used to control the growth of microorganisms in emulsion paints, adhesives, concrete additives, and other water treatment formulations.
Using quantum: 0.03-0.3% (w/w)
Package and Storage
Packed in 25kg fiber drum.
Synonyms
BIT, 1 2-Benzisothiazolin-3-One, 1,2-Benzisothiazolin-3(2H)-one, Proxan, Proxel, Proxil.
If you have any problems, just navigate to this post — Five Frequently Asked Questions About Benzisothiazolinone.